Quite outstanding… exquisitely written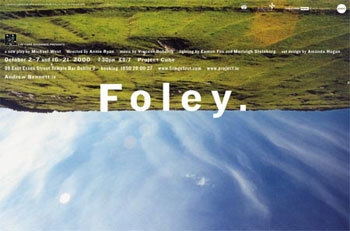 Foley is a hilarious, moving exploration of what it is that your family passes onto you.
It's taken Foley his whole life to realise that your inheritance is not the things that come down to you, it's the things you can't get rid of.

Foley is the last of his family, among the last Protestants in the Republic of Ireland, 'the end point of all that evolution and fruit cake.' He attempts to recall his life for us, to set it straight.
Reviews
West's gorgeous drama is a penetrating character study of a man trying to escape his past. Spare but elegant production...very funny indeed.

Variety

Fresh, unforgettable one-man drama…a haunting performance in a haunting play.

New York Post

Vivid writing and confident delivery…compellingly rendered.

The New York Times

Beautifully written as a long, dark night of the soul, vivid language, daubs of humor and sheer poetry.

The TImes

West's play is a splendidly crafted act of self-consciousness…an exquisite piece of writing.

Washington Post

One of the best and most original pieces of new Irish dramatic writing to emerge in several years.

Sunday Tribune