Brimming with life, sparkling with humour, meditating on tragedy, and confronting occasionally scabrous images with aplomb and subtlety.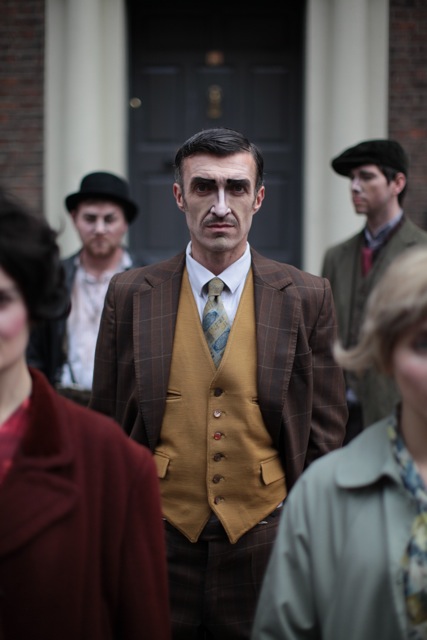 Photo by Rich Gilligan
Following the success of Dublin By Lamplight, Freefall and Man of Valour, collaborator Annie Ryan and Michael West create a new adaptation of one of James Joyce's most renowned works. This historic production marked the first large scale staging of the text. 
In Dubliners, James Joyce offers an astonishing and enduring portrayal of the city – a mirror in which the people of Dublin, as Joyce once wrote, could take "one good look at themselves." Directed by Irish Times award winning director Annie Ryan the company deftly captures the rich humour, the small cruelties and the celebrated epiphanies of Joyce's iconic stories in their ground-breaking transformational style. 
Gallery
Reviews
The frantic, grotesque satire The Corn Exchange is known for wins out. Director Ryan and her extremely talented ensemble artfully turn narrative into action.

Irish Theatre Magazine

Hugely ambitious, and a pleasure to watch. It shines an uncomfortable light on parts of our nature we'd rather brush under the carpet.

Irish Independent

Exquisite duet between O'Halloran and Crotty as the lonely souls in A Painful Case... concluding majestic poignancy of The Dead

Irish Times